Adrienne Wojciechowski's Passion is Rooted in Family Ties to Extension and Agriculture
---
AGNR alumni, students, and faculty are helping to feed the world while also developing innovative solutions to eat healthier and create a more sustainable and equitable future. The summer 2022 edition of Momentum Magazine is a testament to this work, showcasing the many ways our college is helping improve food and nutritional security, from developing resilient grains in the face of a global wheat shortage, to new tech-based approaches for growing our food.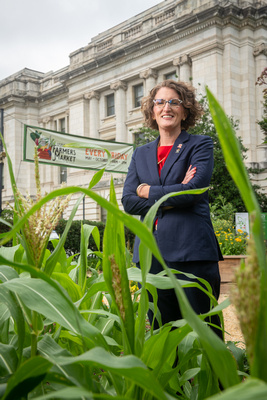 Agriculture has always featured prominently in the life of Adrienne Wojciechowski '01, and she has built a career working to support it. Wojciechowski is currently the Assistant Secretary of Agriculture for Congressional Relations in the United States Department of Agriculture (USDA) -a post to which she was nominated in 2021 by President Biden and later confirmed by the U.S. Senate. 

Since graduating from University of Maryland with a double degree in Agricultural & Resource Economics and Government & Politics, she has seen many different sides to the industry, working for the Nature Conservancy then transitioning to government work for numerous years as an agriculture and policy staffer and advisor to Senator Patrick Leahy of Vermont.  One of her most notable accomplishments in this role was serving as a Professional Staff Member on the U.S. Senate Committee on Appropriations Subcom­mittee on Agriculture, Rural Development, Food and Drug Administration, where she managed a portfolio of more than $5 billion, serving as the lead advisor on farm production, conservation, climate change, marketing, education, and other programs. In her new role, she continues to see the similarities in her academic and professional path.