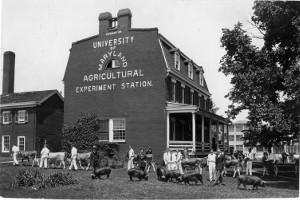 The Department of Agricultural and Resource Economics was established at the University of Maryland at College Park in 1922 with three faculty members.  In the 1920s, agricultural economists focused their efforts on the development of improved procedures for farm organization, recordkeeping, and accounting. In keeping with this emphasis on better economic management for farms, the earliest courses in agricultural economics were taught in conjunction with the Department of Farm Management in the College of Agriculture. 
During the 1930s, the focus of agricultural economics shifted from improvements in the profitability of individual farms to a broader issue, the national or regional overproduction of selected agricultural products. This emphasis, along with marketing and price concerns, continued over the next two decades, and in 1948 the department changed its name to Agricultural Economics and Marketing.  The 1960's brought growing concern about environmental issues and dwindling natural resources, including farmland. 
Reflecting these broader concerns, the department assumed its current name in 1970.  The Department's evolution from the traditional model of an agricultural economics department with a mostly farm-based clientele to its current form as an internationally recognized leader in research began in the late 70's and early 80's.  New faculty appointments in production economics, agricultural policy, and environmental economics gave the Department its research orientation for the next two decades and helped transform the graduate program into one of the leading programs in the discipline.  This took advantage of the Department's strategic location near Washington D.C. and complimented the region's struggle to manage Chesapeake Bay resources. 
The Department has continued to evolve to address important emerging policy issues.  It has expanded its faculty in development economics, with an emphasis on field studies, and the Department has been a leader in research on urban/rural land use issues.   Today, AREC is a world-class academic unit specializing in the economics of agricultural, environmental, and natural resources.